America's Instrument: The Banjo in the Ninteenth Century
by
Philip F. Gura
,
James F. Bollman
"Long before the banjo appeared on the minstrel stage, Africans and African Americans had been making music with similar long-necked, stringed instruments..."
RING THE BANJAR! by Robert Lloyd Webb
This history of the banjo is a second edition of a publication originally published to coincide with a groundbreaking exhibition of the same name at the Massachusetts Institute of Technology Museum. Includes information on the instrument's enduring popularity, the banjo makers of Boston, instruments from the exhibition, a glossary and bibliography of the banjo, and more.
BRIGG'S BANJO INSTRUCTOR
by Thomas F. Briggs "Fascinating reprint of the 1855 fretless banjo tutor, with a mother lode of quaintly-named tunes of the period. Standard notation only. WARNING: Although this is an invaluable document of the banjo's early developent, it's also an artifact of popular culture years before the Civil War and some of the songs published here depict the worst kind of racial stereotypes common to the era."
BUCKLEY'S NEW BANJO METHOD
by James Buckley "Buckley -- the 'father of the classical banjo' -- originally published this book in 1860. This version includes a new historical introduction and a biography of Buckley's ensemble, the Buckley Serenaders. Beginners and up. Notation only.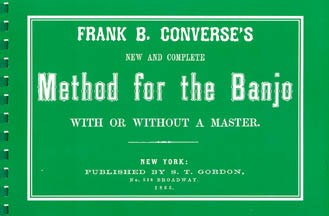 FRANK B. CONVERSE'S NEW AND COMPLETE METHOD FOR THE BANJO WITH OR WITHOUT A MASTER
"High quality reprint of the classic Civil War era instructional book (1865). The first published articulation of "guitar style" playing, the finger style that replaced the stroke style then predominant. Fretboard chart, standard notation."